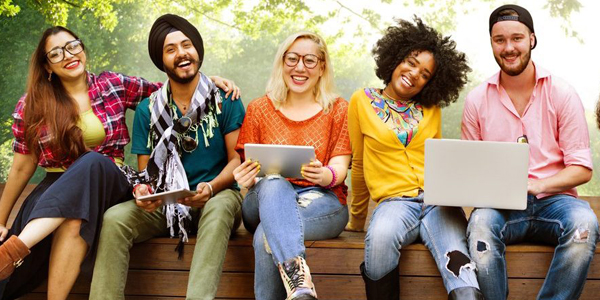 The opportunity to expand knowledge and cultural boundaries is an important opportunity for many, although there can be various obstacles along the way. Just like other first-year university students, international students must adjust to a brand-new atmosphere and culture. Here are 10 common mistakes to avoid when you're studying in a foreign country.
1. Hanging out with too many people from your country
As humans, we're naturally drawn to people who are similar to us. While there's nothing wrong with developing strong friendships with people who share the same culture, language, and identity, the challenge is learning how to break out of that circle to intentionally meet different people.
University is the ideal time to meet people with different perspectives and lifestyles. One possible way to avoid the temptation to spend time with only people from home is to have different friend groups that you rotate your time around.
2. Too much communication with family and friends from home
Similarly, it's normal to be homesick and wants to communicate with your family and friends from back home when you first move to a new country. With social media, it's so easy to talk with anyone at any time, but you may lose the opportunity to broaden your horizons in the community you're currently in.
Instead of cutting off all communication with people from home, set a schedule where you only talk with them a few times a week, making sure your communication doesn't hinder your other friend-making opportunities on campus.
3. Poor work-life balance
When traveling to a new place, students can either be too focused on academics or too focused on having fun rather than receiving a good education. Students should strive to find a middle ground where they're able to balance school and work with other important aspects of university life, like socializing, religion, and hobbies.
A great way to have a good work-life balance is to plan ahead, either using a traditional hand-written agenda or your smartphone. Students should also be realistic about how much time they need to accomplish certain activities and not feel ashamed if they need to step down from something if they can't handle it. Part of a university is learning how to take control of your own schedule and managing your time wisely.
4. Not getting off campus enough
Every university is different—some are centered in a more urban environment, where everything is within walking distance, while others are more spread out and require cars as the main mode of transportation. You may be concerned about how you'll get around if you can't get a license and/or purchase a personal vehicle.
Even if you don't have your own car, there are still ways to explore off-campus. Ridesharing, carpooling with friends, public transportation, and campus shuttles are other alternatives. Students should research the area and ask upperclassmen about the best spots to visit in the area.
5. Not asking for help enough
Not understanding something, whether in the classroom or about university procedures, in general, can lead some students to feel ashamed or embarrassed. As a result, many simply fail to ask for help out of fear they'll be ridiculed or looked down upon.
By not asking questions, students miss out on the opportunity to learn and grow their confidence. Although self-reliance is important, it's better to ask a professor, faculty member, or fellow student to avoid unnecessary mistakes. In general, people on university campuses are happy to help. College isn't meant to be a journey you do on your own!